ABOUT PRODUCT
Oil filter filters the engine oil which serves as lubricant to prevent the metal particle/carton contamination caused by frictions and combustion and cleans up the inside of the engine, keeping the movement smooth.
If poor quality oil filter is used, engine oil will gradually become tainted as metal particle and carbon content are mixed.
This can shorten the life of your engine and cause other parts to fail as well.
UNIQUE SELLING POINT
1. Higher Filtration Efficiency
2. Better Anti-drainback
3. Stronger and more durable (Pressure Resistance)
PACKAGING DESIGN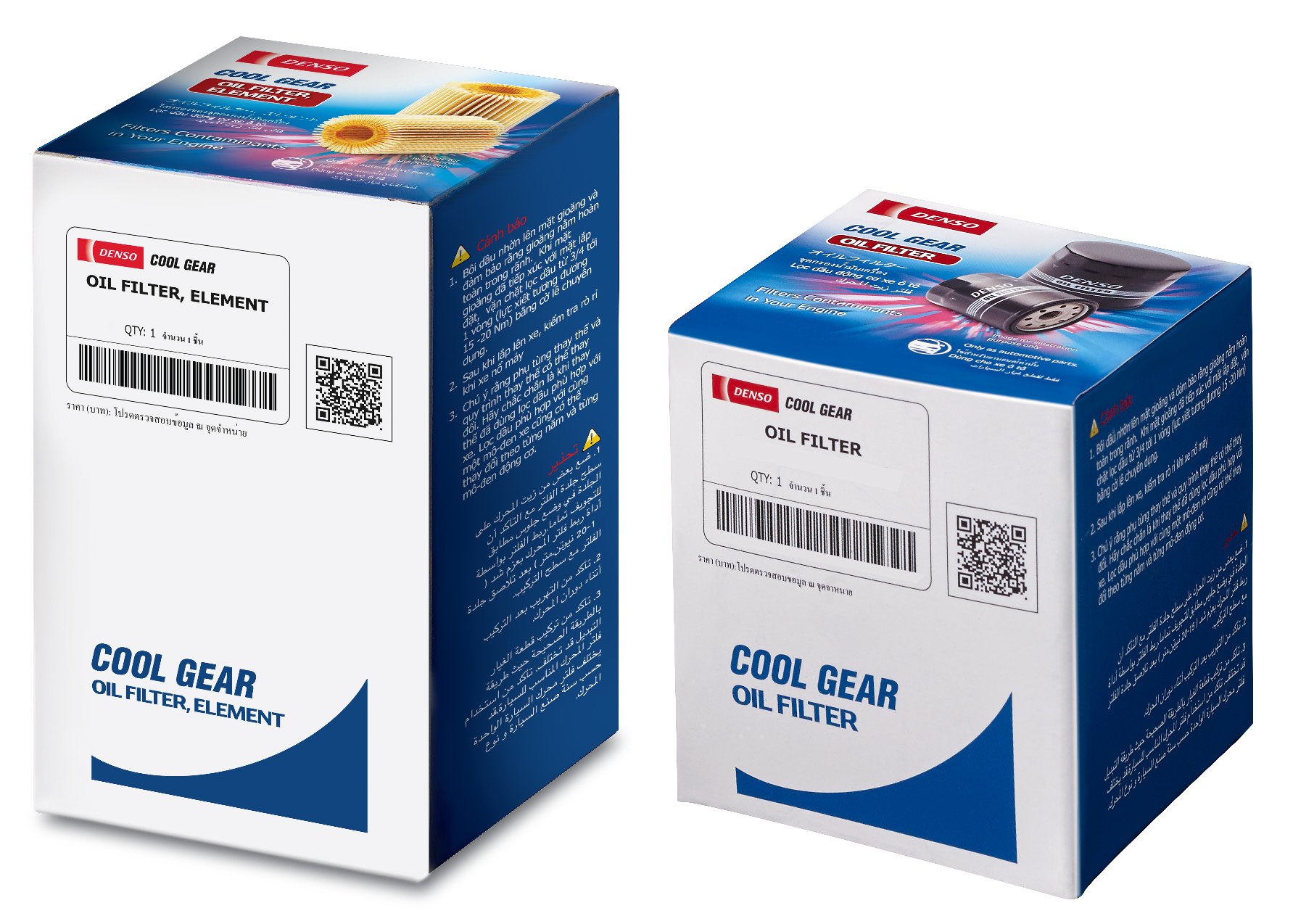 PRECAUTION
Please follow installation guide as per car owner's manual and on the back of the packaging box.
TYPES OF OIL FILTER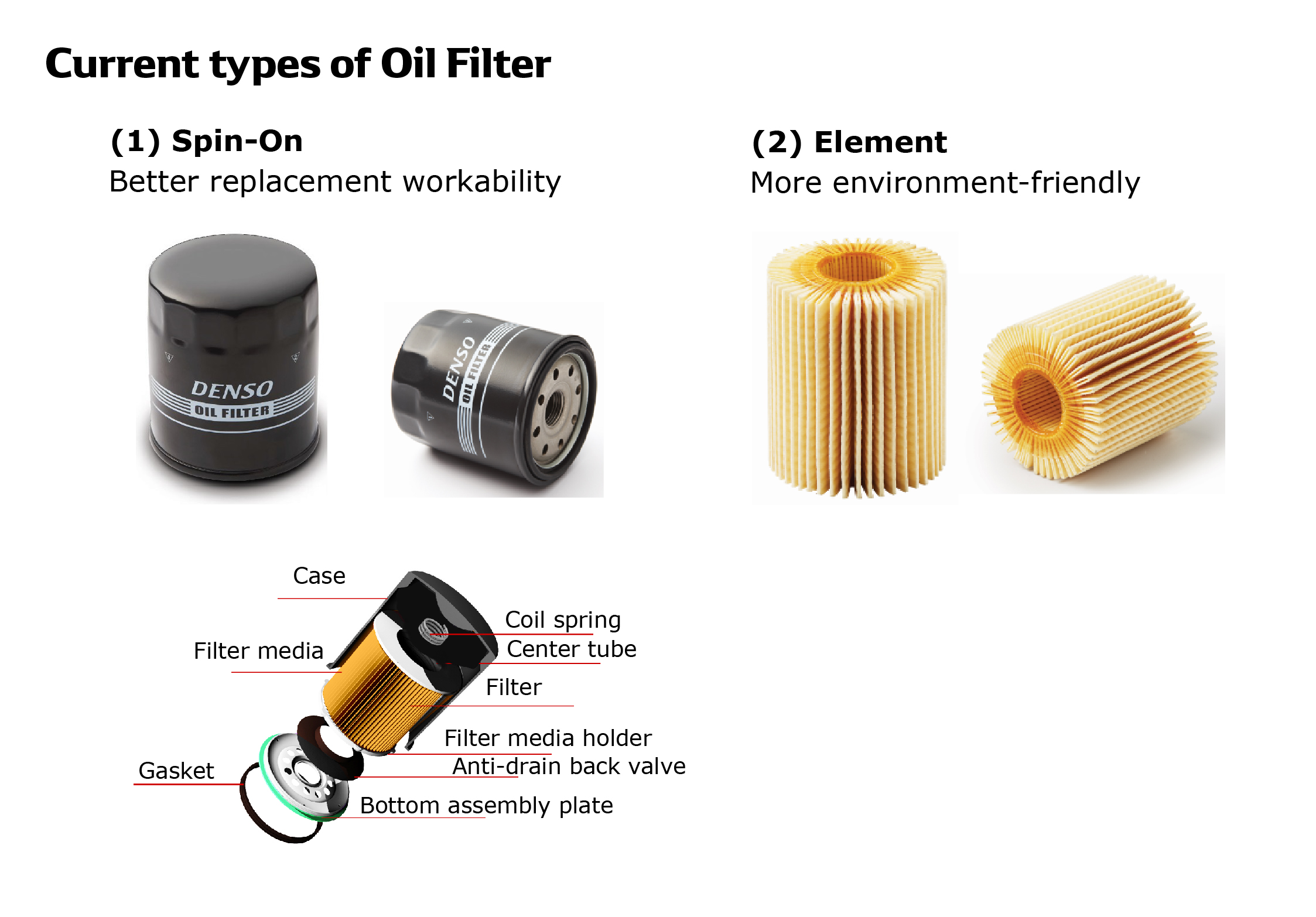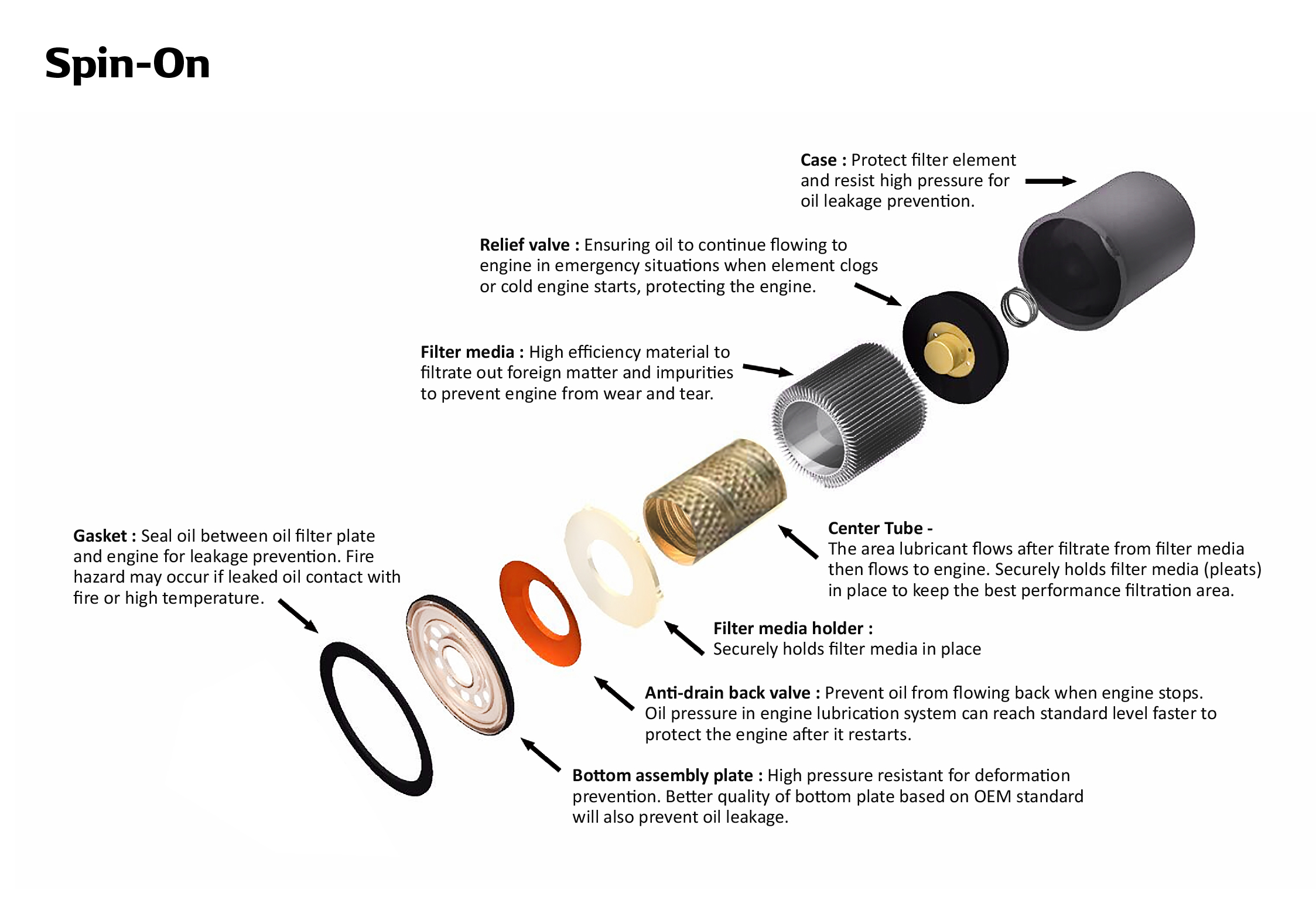 ---
REPLACEMENT
FILTERING MECHANISM
REPLACEMENT TIMING
Oil filter media gets contaminated overtime and clogging occurs if element is not replaced at proper interval. Continuous use of clogged element will allow metal particles and carbon contents to circulate across the engine, damaging engine parts and leading to engine failure.
In addition, circulation of unfiltered engine oil will impair engine performance and fuel efficiency. Therefore, oil filter must be replaced at right interval.
DENSO recommends to refer to instruction manual and maintenance records of the vehicle for details.
The right replacement interval may vary depending on models.
---
COMPARISON
Comparison Against Competitors
Test Method: JIS D 3904, D 1611
| | |
| --- | --- |
| 1. | Product Specifications |
Test Items
Remarks
Remarks

Diameter x Height (mm)

Similar in dimension

Control Factor

: Same size product is used as comparison.
Filtration Area (cm2)

Similar in structure, but paper is different

Control Factor

: Same filtration area is used as comparison.
| | |
| --- | --- |
| 2. | Initial Characteristics |
Test Items
Results
Remarks

Pressure Loss (kPa)

Test Oil: SAE#30
Test Oil Temperature: 80oC
Test Flow Rate: 20 l/min

Indicator of oil flow characteristics.

CG's has less pressure loss implying that oil pressure level in Engine Lubrication system is better maintained that Competitor A's for efficient lubrication of engine!

Filtration Efficiency

Test Oil: SAE#30
Test Oil Temperature: 80oC
Flow Rate: 10 l/min
Test Dust: SOFT-C2A
Terminal Pressure Loss: 80 kPa

High Filtration Efficiency

of CG's filters contaminants in engine oil

right from the start

, preventing your engine from wearing out.
Competitor A's do not filter your engine oil as well at this initial stage.

Anti-drainback Characteristics

Shows the volume of drainback oil from inlet of oil filter while engine stops.

CG's has better

anti-drainback

, meaning oil pressure in engine lubrication system reaches standard level more quickly to protect engine after engine restarts.
Test Items
Results
Remarks

Pressure Impulse Fatigue

Test Oil: SAE#30
Test Pressure: 200 <-> 890 kPa
Tightening Torque: 15 N・m

An indicator of how much resistance oil filter has, before it leaks under pressure. This is tested under repeated pressure to simulate starting cold engine. An important factor to prevent fire hazard.

CG's is

more durable

, assuring you even after prolonged usage.

Element Strength

Test Oil: SAE#30
Oil Temperature: Room Temperature

Element here refers to "filter media" of oil filter. Test determines how strong element is when it is clogged and under pressure.

As seen, CG is stronger than Competitor A, so it will not be destroyed easily.

Engine

is thus

well protected

.